Westfield Upgrades & Additions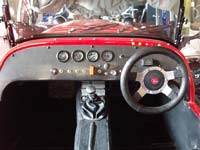 Towards the end of 2006 a further bout of 'Upgradeitis' set in.
The car was taken into our garage and completely stripped. The wiring loom, dash panel, switches, interior, engine, gearbox and back axle were removed and the transformation began.
Over the Winter period the car under went a complete rebuild. The Ford Crossflow engine was replaced with a Vauxhall 2litre XE. This engine was completely rebuilt, again by Noel at NF Racing Developments.
It's fitted with Jenvey throttle bodies, Coscast cylinder Head, DTA engine management, Stainless steel four branch exhaust manifold and a 'Wunoff' repackable 6" silencer. The rear axle mountings were strengthened and a Tran-X limited slip differential was fitted in order to manage the extra BHP/Torque transmitted by the Vauxhall engine. A Quaife close ratio semi-helical gearbox was also fitted. A custom made Carbon Fibre dash, using new switches and instruments, including a SPA Design digital speedometer, were fitted as was a complete custom made wiring loom. The engine now produces 188.3BHP at 6730RPM with 160.1lb/ft of Torque at 5070RPM
Carbon fibre effect 5 3/4" headlamps
15" OZ Ultraleggera lightweight alloy wheels fitted with 195/50x15 Toyo Tyres
SPA Digital Speedometer
Protech Alloy bodied adjustable shock absorbers all round
RAC/FIA spec Roll Bar
High level brake light fixed to roll bar
Mintex 1144 brake pads
2'2 Quick Rack
Luke four point harnesses for driver and passenger
Custom made full Tonneau cover, including Boot Box cover
MK GRP light weight race seats
MK custom made lightweight long range fuel tank
This car is an on going project, so please keep checking back on its progress and development